Saturday was a day of great effort, personal culmination, and domestic reward, the miraculous and welcome event being the arrival of my gorgeous girlfriend at my place (now our place) with boxes and books and bed to live with me. Yours truly happy.
It was stressful, but we did it. We went to the pub to chill out. We've both been working really hard, not seen enough of each other. Then moved. We had a stiff drink. We sorted out our miscommunications. We forgave each other. We kissed. We went gladly to bed. We slept like babies and I had my first major dream this week.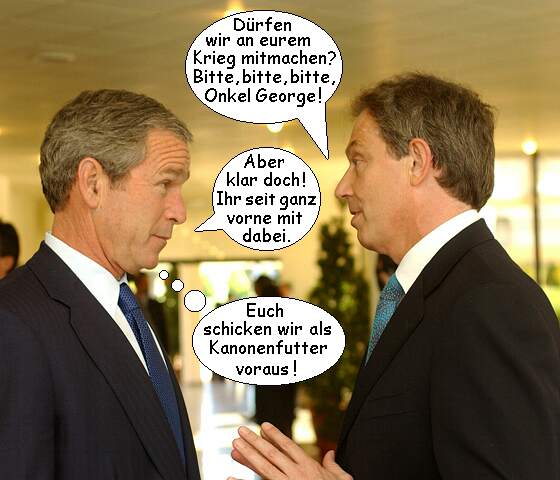 Now, I have previously dreamed of writing, making art and music, but my choice of blogging subject has never before invaded my dreamlife. With all the hours I have spent over the last ten days meeting and interviewing my local candidates, my mind has become corrupted to the point I dreamed last night that Tony Blair was on the Holloway Road, greeting me with a warm handshake. It was windy and sunny, fresh but shirtsleeve weather. The image was definitely conjured up from having met the rosetta-bearing Green Party candidate in the park near there the previous day.
Immediately I asked him "Tony, how do you pronounce your wife's name?"
As we strode down the rode together towards Highbury Corner, he answered me out of the side of his mouth, stressing the 2nd syllable. "Cherie"
Funny thing to do, I thought, talk out of the side of the mouth, like a cowboy, discretely.
He's telling you something without revealing what he's saying on the other side, like people do sometimes, when they want to direct a comment to you without revealing what they are saying to the room, or to the street. It's become a Hollywood comic mannerism, but people really do that sometimes, normally in a public context where they may be overheard to their disadvantage. Board rooms, lobbies, chambers, you know. Anybody could hear.
We chatted a while but I couldn't get his odd mannerism out of my head.
Was he taking me into his confidence? Was he making a joke? What was he being so secretive about?
Was he implying that the pronounciation of his wife's name was something that shouldn't be widely spread around?
"Cherie" I said. He nodded.
Never got a chance to ask him about George Bush.
As a result of this weekend, I have inherited the most comfortable mattress, and I shall be putting it to experimental dreaming and other use in the next few days.
God Bless This Funky Place And All Who Sail In Her.
You might want to read
Three Fifteen Blues Woke up this morningIt was three fifteen a.m.Woke up this morningWas only three fifteen a.m.I ain't sleeping no more in this bedCoz last night the strangest dream cameDreamt I was a wizard […]
The Midst Of Life In the midst of life, I am in death. That's assuming I die at 86, which would be a good tally. The death I am in is an interesting one. It involves an old burial ground, two Norwegian […]
Stop The Bloodshed: Ceasefire Now Dear Blog of Funk Reader, Right now a tragedy is unfolding in the Middle East. Hundreds of civilians have died in the bombings in Lebanon, Israel and Palestine and the death toll is rising […]